---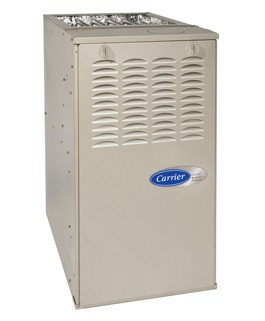 58SB Comfort™ 80 Gas Furnace
If you live in an area where short, mild winters are balanced with long, humid summers and budget is a primary concern in your decision process, this may be a furnace you'll appreciate.
This furnace is built to last with solid performance backed by a 20-year heat exchanger limited warranty1 and the exceptional Carrier standard warranty.
1 To the original owner, when product is used in an owner-occupied residence, a 20-year heat exchanger parts limited warranty upon timely registration of your new equipment. See warranty certificate for details.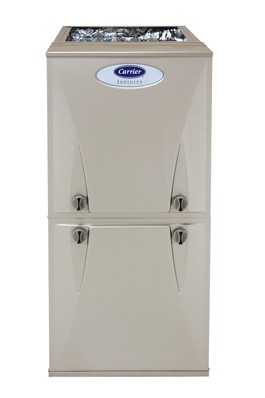 59MN7 Infinity® 98 Gas Furnace With Greenspeed™ Intelligence
The Infinity® 98 furnace delivers precision comfort with Greenspeed™ intelligence. This is the most advanced Carrier® furnace ever made. Its unique design innovations achieve unprecedented efficiency and quiet.
Greenspeed intelligence is created by pairing adaptable-speed technology with our Infinity control's intelligence. The unique, modulating gas valve of this unit, when managed by the Infinity control, allows it to literally adapt its output to the needs of the home. With tiny, 1% adjustments between 40 and 100% capacity, it gives the home only the amount of heating necessary.
This allows the furnace to operate longer at steadier, lower capacities, which ensures incredible energy efficiency and quiet operation with tighter temperature control than standard furnaces.
Variable-speed blower operation is a part of the Greenspeed equation while also enhancing other system components. It's the outstanding choice for potentially boosting air conditioning system efficiency and improving summer dehumidification.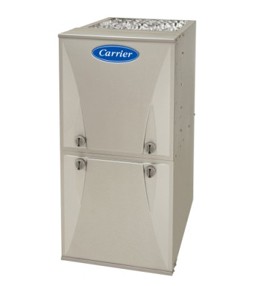 59SU5 Comfort™ 95 Ultra- Low NOx Gas Furnace
Our ultra-low NOx furnace is the great choice for 95% AFUE comfort inside and reduced NOx emisions outside. It delivers comfort you can rely on with a 65% reduction in NOx emissions compared to a standard, low-NOx model.
As part of a complete, year-round comfort system, this multi-speed furnace can be setup to deliver more optimized airflow to your living spaces with our discrete tapped blower motor.
And, if you combine our ultra-low NOx furnace with a compatible thermostat and Carrier® heat pump, you'll enjoy the additional comfort and efficiency benefits of a Hybrid Heat® system.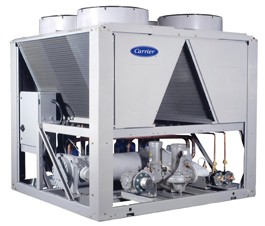 30RB AquaSnap® Air-Cooled Liquid Chiller
with Greenspeed® Intelligence and Puron® Refrigerant (R-410A)
60 to 300 Nominal Tons
The AquaSnap® 30RB chiller is an effective all-in-one package that is easy to install and easy to own. The chiller costs less to purchase and install and then operates quietly and efficiently. Value-added features include rotary scroll compression, Puron® refrigerant (R-410A), a quiet AeroAcoustic™ fan system, easy to use ComfortLink™ controls, microchannel condenser coil technology, optional integrated hydronic pump package (with or without VFD), optional desuperheater, and optional high-efficiency variable condenser fans (Greenspeed® intelligence). Greenspeed intelligence results in best-in-class part-load efficiency with quiet part-load operation.
Aircooled chillers within the scope of the ACCL certification program are certified in accordance with the AHRI Air-Cooled Water-Chilling Packages Certification Program, which is based on AHRI Standard 550/590 (I-P) and AHRI Standard 551/591 (SI). Certified units may be found in the AHRI Directory at www.ahridirectory.org.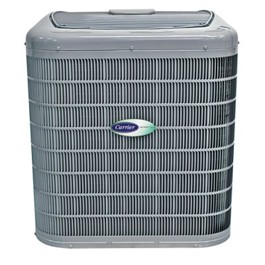 24AAA5 Comfort™ 15 Central Air Conditioner
The Comfort series of air conditioners is designed to give you simple, efficient, affordable cooling. And with impressive SEER ratings they can still make you smile when it comes time to pay your energy bill.
This model meets the Department of Energy's higher EER rating required to meet the Southwest region's minimum efficiency. Your dealer can ensure that any model you choose meets your region's standards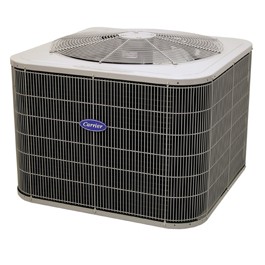 24ANB7–C Infinity® 17 Coastal Air Conditioner
If you live within 10 miles of the seacoast, chances are you know how harsh salt air can be on an outdoor unit. This advanced Infinity series model is designed to withstand the rigors of your environment and is backed by one of the best seacoast warranties you'll find for an air conditioner.
With the Infinity 17 air conditioner you can have two-stage compressor comfort that lets the system bring up the cool if needed while functioning mostly in low-stage where you enjoy the highest efficiency and the best dehumidification. It's also generally quieter in low stage.
And, if paired with an Infinity variable-speed indoor unit and an Infinity control, this cooling system can provide even smarter energy and comfort management.
Heating Products
Download Carrier 95 Gas Furnace Brochure
Download Carrier Two stage Homebuyer Brochure
Precision Tech Home Services
March 27, 2017
2023/09/25