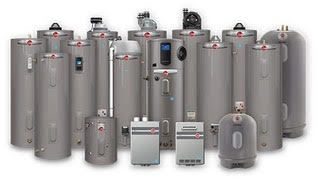 Water Heater Repair and Installation for the Manalapan Township & All of New Jersey
Who doesn't like a warm water bath after a long day? Well, keeping a hot water supply is so essential for everyday life. At Precision Tech Home Services, we perform prompt and professional water heater repair services to help our clients return their supply of hot water back to normal. On top of our repair work, we can also upgrade or replace your outdated system with a brand-new water heater installation.
Water heaters are a crucial component of any household and are used throughout the year non-stop. It is why your water heater needs regular maintenance for proper functioning and efficient performance. If you are having issues with your existing water heater or would like to upgrade, please feel free to contact us and schedule an appointment! We are proud to serve those throughout the Manalapan Township, including Freehold, Marlboro, New Brunswick, East Brunswick, Bridgewater, Manasquan, Long Beach, Toms River, NJ, and the surrounding areas.
Signs That Your Water Heater Needs Repairs
Water heaters are used extensively by households and commercial sectors. If you've been using your water heater for more than ten years, replacement would be a better option than repairing.
However, there are also some signs that you can look for to understand that your water heater needs repairs. These signs are:
The water pressure has reduced.
Your electricity bill is rising.
Water from the heater is not warm enough to suit your needs.
If you notice any rust, corrosion, or leaking issues.
The temperature readings get faulty.
The water heater might produce strange sounds.
The energy consumption of your water heating system has increased in the past.
If your water heating system is showing any of these signs, then avail of our Water Heating repair services today.
Types Of Water Heater Repair Services
We offer mainly two types of water heating replacements and repair services. These are:
Commercial Water Heater Service & Installation
Our services include restaurants, hotels, offices, and other commercial buildings. We understand how essential it is for your place to have a regular water heating supply. Our quality products and repair services are at reasonable prices.
Residential Water Heater Repair Services
Water heaters require maintenance to offer optimum performance. Residential water heaters are used regularly, and if maintained, they can last for years. Our residential water heating services refresh your hot water supply and ensure safety concerns.
Why Choose Our Water Heater Repair Services In Manalapan and Monmouth County?
Our services are quick and hassle-free. We are a team of professionals who are proficient in our work. Our quality workmanship will help in repairing your water heater in no time and no mess.
We understand the cause of the problem your water heater might be facing. Depending on the severity of the problem, we suggest ways and solutions to our customers.
Our experts guide you by diagnosing your water heating system. We shall also recommend if you'll need a repair or replacement for your water heating system.
We work with precision and efficacy, preventing the risks of any accidents or harm to your place.
Our experienced professionals carry out system inspections, repairs, installations, replacements, and maintenance services.
The water heating repair services offered by us are affordable and can be availed by anyone. We offer our services at the best price but never compromise with quality.
We at Precision Tech, offer the best products and services when it comes to water heating repairs and replacements. Contact us today to avail the best water heater repair in Monmouth County.
New Jersey Heating Services • Water Heater Repair and Services Monmouth County
Manalapan, Englishtown, Marlboro, Monroe, Freehold, Howell & Middletown, NJ
Precision Tech Home Services
November 14, 2022
2023/09/25