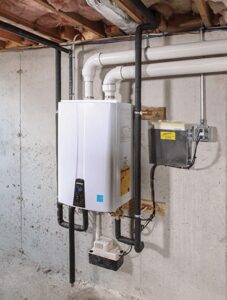 Navien Tankless Water Heaters provide an endless supply of hot water on demand.  There's no waiting for water to heat up, no running out of hot water, no fear of a ruptured tank, and you can expect your tankless water heater to last longer, save money on water heating costs, and meet household demand. Since the water isn't stored in a tank and constantly reheated, you'll avoid contamination and standby energy losses. Precision Tech provides Navien Tankless Water Heater Service to residents all over Manalapan, Englishtown, Marlboro, Monroe, Freehold, Howell & Middletown.
Consider the Navien NPE-240A tankless gas water heater and take advantage of:
High-efficiency condensing technology
Two stainless steel heat exchangers for longer life expectancy and superior defense against mineral deposits
Low NOx emissions and greater combustion efficiency
More versatile venting opportunities
Ability to utilize existing ½" gas lines
Easy convertibility from NG to LP
Less water pressure drop
Low maintenance
Intelligent preheating technology
Navien combination boilers are an innovative and space-saving option, serving as both a high-efficiency water heater and central heating boiler.  Thus, the one compact unit delivers powerful water pressure without the need for a pump, and saves you money on installation. Thus, you can trim your heating and water heating bills, free up valuable space, enjoy an unlimited supply of hot water, cleaner water, and lower equipment maintenance, while adding value to your home.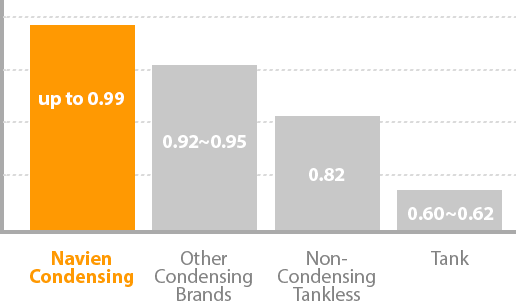 $250 Off New Navien Tankless Water Heater
Call Precision Tech Home Services at 732-655-6345 for details!
Consider the Navien Condensing Combination Gas Boiler NCB-240 and benefit from:
High-efficiency condensing technology
Two stainless steel heat exchangers for longer life expectancy and superior defense against mineral deposits
Low NOx emissions and greater combustion efficiency
More versatile venting opportunities
Ability to utilize existing ½" gas line
Easy convertibility from NG to LP
Less water pressure drop
Low maintenance
Intelligent preheating technology
Clean & silent home heating
Potential radiant heating
Automatic water filling station
Antifreeze feature keeps plumbing frost free in winter
Learn More about Navien Water Heaters
---
Download Navien Tankless Water Heater Brochure
New Jersey Heating Services • Navien Tankless Water Heater Service Monmouth County
Manalapan, Englishtown, Marlboro, Monroe, Freehold, Howell & Middletown, NJ
Precision Tech Home Services
March 27, 2017
2023/09/25